Workshop for influencers: How to Grow Your Audience and Protect Data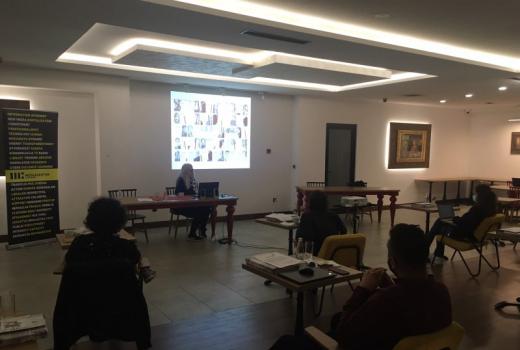 Workshop for influencers: How to Grow Your Audience and Protect Data
Workshop for young influencers from the Western Balkans.
The "Balkans Voices" three-day workshop for young influencers, podcasters and bloggers from Albania, BiH, Montenegro, Kosovo, Serbia and North Macedonia ended on Friday in Sarajevo. The goal of the workshop, organised by Mediacentar Sarajevo as part of a programme led by Canal France International and supported by the French Ministry for Europe and Foreign Affairs, was to offer skills and knowledge to young influencers focusing on important social subjects that will help them reach a greater audience, but also protect their data and prevent hate speech in the comments section.
The first part of the workshop was dedicated to grasping current market trends and the diversity of marketing styles and strategies, and the participants learned the basics of market research, as well as understanding the audience and competitors.
This was the most useful part of the workshop for IT professor Mehdija Adrović from Berane. Mehdija runs his school's webpage and social networks profiles, and the workshop gave him several ideas.
"The first part of the workshop – how to reach your audience – will be most helpful to me. Considering the situation in our municipality, we always have problems with student enrolment and we have to find a way to reach them, get the information to the parents. I learned a few tricks on how to measure your audience and how interesting we are. I've already had a few ideas, maybe we will start a student magazine or radio, maybe even a podcast in which we will talk about the opportunities for young people in Montenegro and the region," says Adrović.
How to finance projects?
The participants heard from Zlatko Ganić, a digital media expert, about consumer habits that indicate the current and new trends on new media platforms. This module was designed to help the participants understand how to finance their projects. This is exactly what many of them need most.
Aleksandar Lazovski, a 26-year-old podcaster from Skopje, is a social entrepreneur. He is the head of a SmartUp focused on social innovations, education on climate change and public sector innovations.
He attended the workshop for a new project he has started – the podcast "Word-Two" in which he interviews people he meets in the streets and talks with them about important subjects such as mental health.
"I started the podcast three months ago. I was sitting in the park and realised that I want to step outside my comfort zone because COVID prevented me from meeting new people or talking with people outside my bubble. I decided to speak with people I just met the same day. I made one episode and it became viral in North Macedonia," Lazovski says.
The main topic of his conversations is a positive mental attitude. He asks his guests about the last positive thing that happened to them.
"During the coronavirus pandemic, young people struggled a lot because we were cooped up in our houses, we could not be social. Mental health has been a major issue over the past two years, I think young people need inspiration, and my podcast showed me that we are not very different," Lazovski added.
He does not lack ideas and he has an audience, but he came to Sarajevo to learn how to improve his podcast, as well as reach new sponsors and partners because he feels it is currently a bit amateurish.
"That is why I came here to learn some tricks to make my podcast a serious project. I want this project to be long-term…" added Lazovski.
Visual identity as the key
When marketing their products, influencers, bloggers and podcasters alike have to have a visual identity. Young people had the opportunity to learn about it from the world-renowned, award-winning photographer Damir Šagolj, Pulitzer Prize and World Press Photo winner.
"I am sure that, for people who are trying to get someone's attention and be loved and noticed, not just photography, but the full visual content of their creation is crucial for their activity or ambition to reach the level we want them to," advised Šagolj.
In the age of smartphones, all it takes is a press of a button, and you have a photograph. Quality content, however, requires knowledge of certain rules. During his lecture, Šagolj explained to the participants what those rules are.
"The rules of composition, the rule of taking the picture at the right time, all of this is essentially how the human brain and people want to see visual content and photographs. They need to be pleasant, balanced; the objects need to be laid out in a way that feels good to the human eye," Šagolj emphasised.
He also adds that a photograph's effect increases if the elements of composition and emotion are respected, rather than worrying about the number of pixels and effects.
Journalistic ethics for influencers
The basics of journalism and journalistic ethics can help young influencers create socially responsible content, which was the subject of TV host Jasmina Kos's lecture. Speaker Maja Ćalović introduced the participants to security issues on social networks, while psychologist Mirjana Gavrić presented the techniques for protection from online pressures and harassment that influencers on social networks often face.
The digital media programme "Balkans Voices" is implemented by Canal France International in cooperation with Mediacentar Sarajevo, the Albanian Media Institute, the Montenegrin Media Institute, the Macedonian Institute for Media, the Novi Sad School of Journalism, and the Foundation for information, Media, Dialogue and Education KosovaLive.
This was the second workshop organised as part of the "Balkans voices" project, with two more planned in the programme.