Hans Staiger, journalist (1949 – 2023)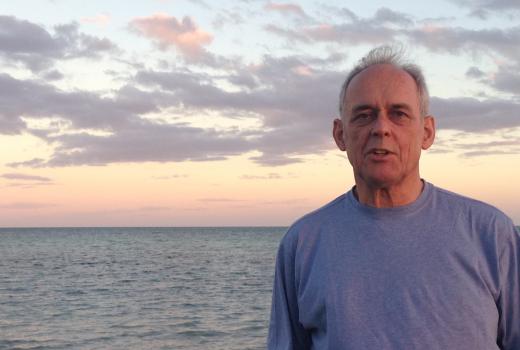 Hans Staiger, journalist (1949 – 2023)
He had a special, almost religious attitude to journalism.
Photo: Vjollca Shtylla
Our dear Hans Staiger has passed away. He died peacefully, in the arms of his wife, Vjollca Shtylla, on 16 February 2023. On Sunday, 12 March 2023, in Gaithersburg, near Washington, his friends will gather at Kentlands Mansion to honor Hans. Vjollca has announced the gathering as a celebration of life.
For us, Hans's Bosnian friends, separated by a continent and an ocean from his eternal resting place, all we can do is join with the still living memory of a good, dear and selfless friend. Our Hans.
Hans Staiger was born in Freiburg, Germany, on 22 December 1949. He graduated from Heidelberg University. Going to London after his linguistics studies, he wanted to deepen his knowledge of the English language. He got a job at the BBC World Service, in the German newsroom, where for twenty years he covered global events after the Vietnam War, the fall of the Berlin Wall and everything that happened in Southeast Europe in the 1990s. In 1996, he arrived in Sarajevo and spent several years at the Media Center working on the establishment of the BBC School, its development and cooperation with all media in Bosnia and Herzegovina. After Sarajevo, he spent a couple of years in Bulgaria doing similar work before settling permanently in the United States in 2006. He worked there for more than a decade as a consultant for the famous Organized Crime and Corruption Reporting Project (OCCRP). If you have not heard of the project, it does not really matter. It is more important that all those politicians and tycoons worldwide to whom their reports refer have heard of them.
Hans Staiger won us over at Media Center Sarajevo with his personality so much that we considered him "ours" even though he was a BBC employee. His calmness, gentleness in speaking and solving problems had a soothing effect on all of us. I remember him by his actions, which are not quite usual for all people from his and our profession. Once we were guests together at a conference for journalists organized by the OSCE. We spoke about experiences in the education of journalists and about our BBC School in Bosnia and Herzegovina. Hans emphasized that journalism, in addition to a thorough education, even more requires curiosity as a way of understanding the world. After the speech, he refused to receive the fee stipulated by protocol. He explained it elegantly in one sentence: "The BBC code does not allow me to be paid for something that is my duty".
We often traveled together around the region, participated in professional projects, but we also often shared private time apart from that. Sometimes we would watch televised football matches together. However, I remember when one evening, when I called him on such an occasion, he apologized because he "has to stay in the apartment". That evening, the BBC aired the last live broadcast of the world service in German. He wanted to listen to it alone. The program that he had prepared for two decades and in which, during the Second World War, the voice of writer Thomas Mann could be heard with messages to the "German listener". He told me about interesting events from that time, including his acquaintance with a colleague from the Bulgarian newsroom, Georgi Markov, who was killed in September 1978 in an apparent assassination by the Eastern secret services. Markov, a dissident and writer, was killed near a London Underground station when probably a KGB operative fired a poison pellet into his body from an umbrella he was carrying.
Hans especially loved Sarajevo and this region. He did not miss a single opportunity to visit Sarajevo if his trip took him to Europe. We would take a walk, sit in restaurants and cafes that had become Hans's favorites during his stay in Sarajevo. He liked to visit old friends, journalists who attended the BBC School. He is one of few people who came here as a foreigner but did not leave Sarajevo as a foreigner.
Hans Staiger was an exceptional friend, interlocutor and someone you had to love. He had a special, almost religious attitude to journalism. He saw journalism as a job that required total dedication.
In these moments of sadness due to the departure of a dear friend, the news that the International Center for Journalism (ICFJ) in Washington has launched the Hans Staiger Investigative Reporting Award brings joy. We will remember him as one of our dearest colleagues and friends. Rest in peace, dear Hans Staiger.