Youth media in the fight for environmental preservation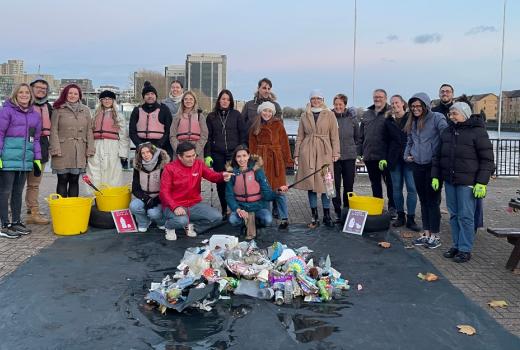 Youth media in the fight for environmental preservation
Climate change and environmental protection are one of the most important global topics.
photo: British Council
There are no limits to reporting on the environment, as this urgent global problem concerns us all. Media outlets in the Western Balkans, given the "ecological bombs" that exist in the region, which often affect the environment of most of these countries, have something to report on every day. Through collaborative efforts, they should reach out to citizens, highlight the existence of these problems, and offer possible solutions.
Solutions journalism is one of the ways that journalists can use to not only inform the public but also bring environmental issues closer to them through the prism of solutions.
Regional collaboration among journalists is crucial in reporting on environmental issues that should be integrated into newsrooms, as stated in the Charter on Improved Journalism Practices for Better Reporting on Environmental and Environmental Emergency Situations signed by the European Federation of Journalists (EFJ) in September of last year.
Ecology can no longer be limited to a separate section and must become the prism through which stories are approached, according to the Charter. Signatories state that they are committed to better addressing the climate crisis, while at the same time, the EFJ encourages all journalists to promote it in their newsrooms so that the media can integrate the main ecological and social issues of the 21st century into their daily reflections and journalistic practices.
SoJo –an important segment in environmental reporting
The importance of environmental journalism has also been recognized by the British Council, which, through the Media for Youth - Environment program, in partnership with the Media for All program, supported nine projects focused on reporting on significant environmental issues in local communities. The projects are jointly implemented by nine youth media outlets from the Western Balkans in collaboration with nine non-governmental organizations specialized in environmental protection.
Through the Media for Youth - Environment program, youth media outlets also had the opportunity to collaborate with experts and journalists in the field of audio-visual production, podcast production, and utilizing the potential of social media. In addition, these newsrooms visited London in November of last year, where they participated in the SoJo education program and visited some of the leading non-governmental organizations in the United Kingdom in the field of environmental protection and combating disinformation.
The editorial team from Serbia's Oblakoder.rs presented a documentary film "Pazi, vazduh!" as part of the program, with the aim of waking people up from their lethargy and reminding them that the right to clean air is their right, and that they can demand that the government enable them to have that right, instead of deliberately putting them at risk, as Marina Zec, the editor-in-chief, stated for Mediacentar Sarajevo.
"We wanted to encourage people to reflect and really pay attention, I should say, to this 'invisible' problem," says Zec, adding that the audience at the film premiere held in early February in Belgrade reacted better than they expected.
The Oblakoder team offered solutions for the air pollution problem in Belgrade through the film, and when asked whether solutions-focused journalism is one way for the media to report on such topics and raise awareness about environmental protection, Zec replied that it is just another name for "rediscovering the basic values of journalism - to inform, entertain, but also to educate."
According to researches, young people are more attracted to media content that offers potential solutions to problems, which was the direction taken by the British Council, as stated Ivan Koroman, manager of Media for Youth program, adding that the British Council has been promoting the importance of innovative approaches to journalism, such as mobile journalism ('MoJo'), engagement journalism, and solution-focused journalism, for the past three years.
"The main goal of our work with youth media is to empower the capacity of independent local media, in this case independent local media that are trying to focus on young audiences. So, strengthening their capacities to be sustainable, to produce quality journalistic content, to maintain journalistic integrity, balance in terms of gender and minority representation, and to increase their reach with their audience," says Koroman.
"Awakening" is a term that is very important when we talk about environmental issues, both at the individual level and at the level of community or collective, says Vladimira Dorčova Valtnerova, founder of the portal Storyteller.rs - one of the media outlets that participated in this project. Media, she adds, are paying increasing attention to environmental issues and are awakening together with environmental civic movements.
"This applies primarily to 'big' environmental issues, which have become national topics and which in recent years have united environmental journalists and activists in Serbia in a loud and unwavering fight for the environment, such as the issue of small hydropower plants or lithium mining," emphasizes Dorčova Valtnerova.
However, environmental journalism stories are not tailored to the communities they are intended for, she adds, which is a problem because either relatively scientific language and terminology that not everyone understands are used, so they cannot, as she explains, feel the weight and essence of the topic and the problem, or the formats are not adapted. She also says that journalists often forget that the content they work on must also be offered to young people.
She believes that when the characteristics, processes, procedures, and main decisions of SoJo journalism are defined, environmental issues are precisely the focus.
"This provides a wide range of opportunities for journalists to bring concrete environmental issues and problems closer to the audience, point out their negative effects, offer or suggest solutions, as well as to analyze those solutions - because no solution is ideal, and analyzing their limitations can lead to improving them or coming up with completely new ideas on how to solve an environmental problem." says Dorčova Valtnerova.
The importance of reporting on the environment
It is not an exaggeration to say that climate change, as well as environmental protection, represent one of the most important global issues, says director and journalist Dragan Gmizić, who has many years of experience in reporting and conducting training on environmental issues. He also held a training on environmental journalism within the Media for Youth-Environment program for youth editorial teams from the Western Balkans, where, among other things, they discussed how to educate citizens about the importance of preserving the environment and how to encourage young people to be more responsible towards their environment.
He reminds of a study conducted by the Reuters Institute, based on interviews with editors of the world's most significant media, which shows that these topics are at the top of their agenda.
"The general trend is to form specialized journalism teams within newsrooms that cover the field of ecology. Of course, there is always a current crisis, such as the ongoing war in Ukraine, but the moment the guns fall silent on the new Eastern front, we will return to the greatest truth in the world, and that is that nature knows no national boundaries. When a tsunami or a storm hits, no one asks whether you are Russian or Ukrainian. Not to mention Serbs, Croats, Bosniaks, and other tribes. The real question is - how did we get here and what can we do to prevent it?" emphasized Gmizic.
He adds that there are journalists and media in the region who recognize the importance of this topic and cites the example of the Second Program of Radio Belgrade, which has had a show called "Čekajući vetar/Waiting for the Wind" for three decades, dealing with these topics.
"Moreover, it goes a step further and awards the 'Green and Black List' to inform, educate, and raise ecological awareness. The face of Aleksandra Vukicevic, the editor of the mentioned show, is the face of awareness of the importance of ecological topics, but also of hope that things can change. She is not the only one, of course," says Gmizic.
Dorcova Valtnerova says that she has always had a special relationship with environmental issues and the protection of the environment and the impact of humans. However, she recently "woke up" and realized that, in her opinion, these are the most important topics that journalists can and should inform about.
"These topics concern all of us, our entire community, both globally and locally. They concern our lives and the lives of all living beings, they concern the survival of the living world on this planet, and at other levels, we can talk about the quality of life and coexistence or symbiosis of different species of living beings, the health of our lives, and isn't that enough for journalists to at least occasionally open the door to these topics and offer them to the public, the community, the people?" said Dorčova Valtnerova.
She says that just as journalists should inform about these issues in a quality manner, citizens should also be more active in the fight for protecting a healthy environment and collectively defend life.
Ena Čaušević, a journalist at RadiYo Active from Zenica, a community radio station run and edited by children and young people, emphasizes that the issue of the environment is not just a matter for one state, but a global problem. She believes that as a society, we are not aware of how much the environment is endangered and that citizens are not subconsciously thinking about whether their habits are damaging the environment in which they live.
"Given that as individuals we affect the environment, whether it is damaged or protected, I believe that as individuals we need to react and do everything in our power to protect our environment. It is important that the media report on the damaged environment, those who are damaging it, but also on ways to protect it, as this reminds the public of the consequences that we are already feeling to a large extent, both locally and globally," says Čaušević.
As part of the Media for Youth - Environment program, the editorial staff of RadiYo Activa cooperated with Ekolist, a magazine from Serbia whose focus is care about the environment. According to Čaušević, the representatives of Ekolist were helpful to this youth media because they were able to give them clear guidelines for more efficient work with their knowledge and experience. The content of Ekolist could serve as an inspiration to the media, Čaušević states, and adds that the content of Ekolist should be read in the same way as daily newspapers.
In Ekolist, according to Majda Adlešić, an entrepreneur and journalist, they try to cover all events, report on good examples, but also follow incident situations, environmental activism, and decision-makers. They also value the voice, opinions, and experiences of citizens, which is often, as she explains, part of their research on this topic.
They have good cooperation with the media in terms of exchanging information, communication about specific problems, although non-proactive and non-independent media selectively publish their contributions or ignore them altogether.
"Usually, current events or situations that occur frequently, unfortunately, such as the spillage of hazardous materials, destruction of protected biodiversity landscapes, the adoption of bad legal or planning documents, are an opportunity for the media to approach the non-governmental sector or entrepreneurs who deal with it. Our projects, in which we try to carry out education and information for the population, are not sufficiently followed. Apart from those who are truly collegial, and there are enough of them, the information doesn't reach citizens," says Adlešić for the Mediacentar Sarajevo.
Media reporting on the environment
Media outlets in Bosnia and Herzegovina, including those in the Western Balkans, are increasingly focusing on environmental issues. However, this remains sporadic and mainly occurs when an isolated incident captures public attention. Continuous coverage of these topics is provided only by specialized media outlets that focus specifically on environmental issues, according to sources cited by Mediacentar Sarajevo.
"As a citizen who follows the media, I see a lot of selective reporting, especially in daily newspapers and public broadcasters. Environmental issues are sporadic, often marginalized, and incomplete. So, people mostly rely on social media for information, especially when it comes to incidents or civil society activities aimed at preventing activities that harm the environment and are instructed by authorities or investors," says Adlešić.
According to Adlešić, the cause of such media coverage, which is often without critical review, is also censorship that exists in public media services, while smaller media outlets are restrained to avoid confrontation.
"First of all, it is necessary to write about environmental problems objectively and truthfully so that the public can form a realistic picture. It is necessary to write through the prism of solutions or good practice examples that exist in the region, especially in Europe. This would empower citizens' awareness, improve their knowledge, but also encourage action and change of habits. We really have ecological bombs here in the Western Balkans that are not only the concern of the countries within whose borders they are located, and therefore connecting and collaborating, especially media-wise, is essential," emphasized Adlešić.
Marina Zec shares a similar opinion, stating that the media reports on these issues, as well as human and labor rights and social injustice, are rare and sporadic.
"These are topics that are unprofitable for mainstream media and media that depend on clicks, as they are not attractive enough. I believe they are aware that these are issues of public importance, but apparently public importance is not a relevant factor in their business. There are also media outlets that report on these issues, but they are really in the minority and are mostly media outlets of the civil sector," says Zec.
"However, the battle for clicks is something else," says Dragan Gmizić, adding that it is a big challenge to capture people's attention in an era dominated by social media. He explains that it is important to understand that journalism and clicks are not related, and that in this sense, the answer to the question of how to capture the audience's attention represents an unsolvable equation.
Moreover, he believes that the "good old-fashioned fieldwork" and direct engagement with people are still the most reliable and up-to-date source of scientific information for journalists and newsrooms on all issues related to environmental problems, but social media is both a problem and a solution.
"On networks, you can find and connect with truly phenomenal organizations and individuals. I'm always fascinated by how much smart and educated people are engaged in extremely important things," he says.
Environmental issues should be constantly mentioned in the media through reports, conversations with experts or residents, promoting good examples and ideas that will inspire citizens to change their habits, says Ena Čaušević. Her opinion is that mostly contents related to this topic are placed only when some ecological disaster occurs, such as the one on the Drina River that everyone is currently writing about.
There are also good examples in reporting, says Vladimira Dorčova Valtnerova, but if journalists always insist on finding the culprit in political-party circles in their reports and stories, and do not point out the essence of the problem in a simple and understandable way, as well as possible solutions or limitations of existing solutions, and if there are not all or almost all interested parties in the news reports, from citizens, representatives of state institutions, experts, representatives of NGOs and civil environmental initiatives, journalistic content, she says, can further polarize society."
How to engage the public in environmental protection topics
Media attention should be particularly focused on environmental issues, and the potential complexity of this problem should not be a reason for media not to report on it. Although it is difficult to engage the public, journalists must find an interesting way to present this problem and educate the audience about ways to protect the environment.
"It is necessary for us as media to be innovative, entertaining, and informative at the same time, and it is even more difficult to inspire the audience to truly understand us and think about their habits," says Ena Čaušević, adding that persistence and constancy in promoting content on environmental protection are important factors in influencing the public.
As Vladimira Dorčova Valtnerova says, people feel the negative effects not only of climate change but also of the irresponsible behavior of humans, which is why the public is increasingly interested in these topics.
She adds that the best way to reach a wider audience is one in which citizens become allies of the media, and journalists speak a language that everyone understands.
"We need everyone to start changing their habits, but also to adopt new ones, such as the habit of actively fighting for a better tomorrow and for our human right to a healthy environment. Some experts call this new habit ecological literacy, excellent, isn't it?" says Dorčova Valtnerova.
And in order for the public to truly understand the eco-issues that are presented in the media, the journalist must fundamentally understand the society in which they live, explains Dragan Gmizić. Environmental problems, if we are talking about Balkan countries, cannot be reported unless the importance of other problems such as poverty and low level of education is taken into account. The journalist's job, he concludes, is to recognize and understand all connections in society and in nature.